Synchronized videotracking
We developed a videotracking software that is coupled with POLY, our behavioral experiment management software. After the acquisition of each frame from the video camera, the analysis of the location of the target is processed, and the position and the head direction are recorded and dated in a specific file.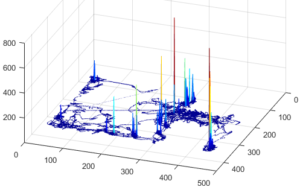 Electric signals (e.g. TTL) may be sent to an external device each time a frame is capture, each time an animal enters in an experimenter-defined area of interest, or according to the time spent in a specific area of the maze. This allows a perfect synchronization of the position of the animal with electrophysiological recordings and optogenetics stimulations.
Moreover, as the behavioral data are managed by POLY, additional accessories may be installed in the apparatus, such as nose pokes or food and liquid dispensers to conduct operant conditioning. Both behavioral inputs and actuators activations are synchronized on other output channels, for the experimenter to be able to synchronize all the events together with his external device.