GAP CROSSING
This device was developed for mice and allows to study their motivation to jump from a platform to another one in order to obtain a food reward. Thanks to the high-frequency camera, whisker movments can be observed and analyzed.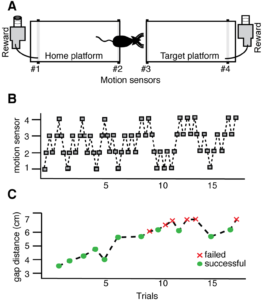 Apparatus
The Gap Crossing is equiped by:
A high structure composed by 2 different platforms. The gap between those can be adjusted by users between 0 to 10 cm,
A "reward platform" where is located an automatic food dispensers (with a purge system),
An automatic door which control the access to the distal platform (i.e. reward platform),
An infrared beams frame to measure the animal progress into the system,
A sound generator with adjustable decibels,
A high-frequency camera (300 fps) that allows to film animal's jump between both platforms,
A floor with infrared backlight,
An electronic TTL pulse generator, which allows synchronization with electrophysiology or optogenetics (open and closed-loop activation),
A PC-computer to run our softwares,
An electronic interface.
The apparatus is placed in a ventilated wooden cubicle, to isolate the system form the environment.
Software
Our POLY software allows:
Management of the experiment: opening the door, distribution of rewards,
Establishment a library of exercises and display in real-time of the behavioral events,
Secured recording of all the events, etc.
Our POLY_Files software calculates:
The locomotor activity,
Time spent in each area,
The number of times that the animal succeed,
The number of rewards obtained,
Delays of response…
All the results are displayed in a Microsoft Excel compatible datasheet.