Actimeter
Apparatus
our actimeter has got a light aluminum structure (covered with PVC removable plates) forming a rack of 8 boxes. It's very easy to move, thanks to its wheels.
rack dimensions: height, width, depth: 1.65 m, 1 m, 0.6 m.
each box is equipped with infrared sensors to detect locomotor activity, an infrared plane to detect rearings, a removable cage, a sliding floor, a trough and a bottle.
the controllable houselights, the trough and the bottle, allow long-lasting experiments.
All the racks are connected to a common electronic interface, which provides the formatting of signals from infrared sensors and allows communication with the computer.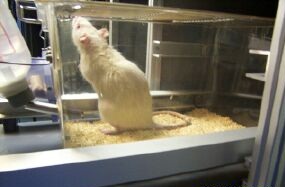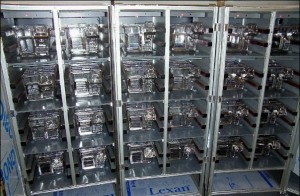 CAGES: For rats, we propose the 2150E001 model from Tecniplast. For this model, equipped with a feeding trough and bottle on the front, you may order the cage 2150Z001ZE directly from Tecniplast (minimum 500 pieces). For fewer quantities, we propose a customized adaptation of the 2150E001, see pictures below:
Rats, Mice, Rats/Mice
In order to save both money and room, we propose an actimeter in which you may run experiments with Rats and Mice. We provide accessories for both species (cage, trough, bottle, …).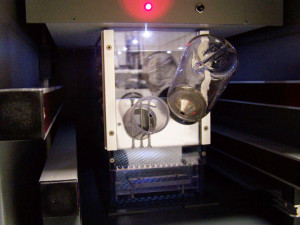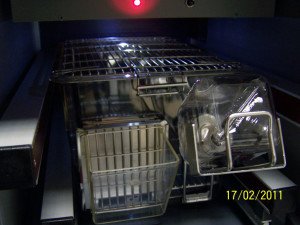 Software
The software (running on Windows) allows managing 6 racks of 8 cages (i.e. 48 actimeters). Each cage remains independent.
monitoring graphs,
data storage per configurable unit of time (from 1 sec to several hours),
recording time: from 1 minute to several days,
data : locomotor activity, activity in the front, acivity in the back, Rearings
A software module is dedicated to managing data files. It allows:
merging the files,
presenting the output variables and their kinetics per configurable time unit in a Microsoft Excel compatible data sheet.